#CAP Kick Off Meeting
September 26 @ 2:00 pm

-

4:00 pm
PLEASE READ THIS ENTIRE COMMUNICATION FOR DETAILS
ON THE SEPTEMBER CHAPTER MEETING.
***It is encouraged that you register in advance for this meeting as you will not be able to join if not registered***  
After registering, you will receive a confirmation email containing information about joining the meeting.
This meeting is for active Lambda Epsilon Omega members only.
Please DO NOT share the meeting link
with non chapter members
(regardless if they are members of the sorority).
Please join the online meeting at 10:20 am 
This will allow us to start promptly at 10:30 am.
You will be muted when you join on line and on the phone.
If you experience technical issues logging into the chapter meeting, please contact the Technology team at leoakawebmaster@gmail.com
Basileus Luevenia Holloway is inviting you to a scheduled Zoom meeting.
You are invited to a Zoom meeting.
When: Sept 25, 2021 10:30 AM Eastern Time (US and Canada)
Join Lambda Epsilon Omega Chapter at "Eastside Seafood" who brings THE TASTE OF MIAMI TO ATLANTA.
Come out to the CASH MOB & Tailgate with your HBCU or AKA Attire on Saturday, September 25, 2021 after chapter meeting from 1 pm – 4 pm, and enjoy limited flavorful seafood cuisines on the east side of the I-20 expressway. 
Place your order 30 minutes in advance at  https://ordering.app/eastsideseafood/.  Let's support this Black Owned Female Business and report your black dollars spent https://forms.gle/itu3V6DVxRL5wJ3f8 AND promote HBCU's at the same time! 
Share with your friends & family too!
On October 4, 2021, Alpha Kappa Alpha members worldwide will observe Breast Cancer Awareness Impact Day during the nationally recognized Breast Cancer Awareness Month. On this day, the sorority aims to raise awareness about the disease and raise funds for research into causes, diagnosis, prevention, treatment, and cure.
According to the Susan G. Komen Foundation, healthcare inequity is the root cause of increased death rates for Black women diagnosed with breast cancer. Join Lambda Epsilon Omega for our virtual discussion led by medical oncologist, Dr. Lloyd Geddes on "Closing the Breast Cancer Disparity Gap". You will have the opportunity to ask questions, hear stories from caregivers, and celebrate breast cancer survivors.  Register using this link- https://us02web.zoom.us/meeting/register/tZctcOCqqTgtE9N7-SywkQ6LnymXOaYQcyZn
VOTING AND ELECTIONS INFORMATION
The next general election will be held on November 2, 2021.  If you plan to send in an absentee ballot, you must first complete an absentee ballot application.  The application must be returned to your county board of elections by mail, fax, email or in-person.  New voting laws require that only roommates, immediate family members, or caregivers can return absentee ballot applications and ballots that do not belong to them.  The law has also changed on drop boxes.  The location of drop boxes will be announced later.
If you need an absentee ballot application, you can download it at: https://sos.ga.gov/admin/uploads/2021_Absentee_Ballot_Application2.pdf.
See key dates and other relevant voting information below.
(include the flyers for Advance Voting 2021 and Key Dates 2021).
CONGRATULATIONS TO SOROR CARMEN SULTON
Soror Carmen Sulton is running for Decatur School Board – District 2.  The Connection Committee encourages women to run for office to claim a seat at the table where decisions are made.  For more information about this election please visit https://www.carmenforcsdboard.com/ and  https://www.dekalbcountyga.gov/sites/default/files/users/user3597/Copy%20of%20November%202%202021%20Qualified%20Candidates%20-8.20.21v4.pdf.

HBCU Week 2021!
Lambda Epsilon Omega's HBCU Week continues with more programming!
There is something for everyone to do to celebrate HBCUs and another chance for us to make history by raising $1M for HBCUs on our HBCU Impact Day.
Check your email for a message from our Anti-Basileus with details for each day of the week and registration links.
Add these dates/times to your calendar – you don't want to miss what we have planned for you!!
---
SCAVENGER HUNT – STARTS NOW!
It's time for our Virtual Scavenger Hunt: HBCU Edition. This virtual activity will take you down memory lane. Grab those photos and power up your devices. Find as many items as you can by Thursday, September 23rd. Using the following link to submit your entry: https://forms.gle/KgTi8xZhA4e5HxZs8
---
WELLNESS WEDNESDAY – SEPT 22
---
#TBT – THURSDAY, SEPT 23 – ALL DAY
Use this cool frame to post your HBCU pics – then and now!
#AKAHBCUWeek2021 #AKALEO #AKALEOLOVESHBCUS#AKA1908 #EXCELLENCE #HBCUFORLIFE #AKALEO #TBT
---
PAMPERED IN PINK – FRIDAY, SEPT 24 – 7PM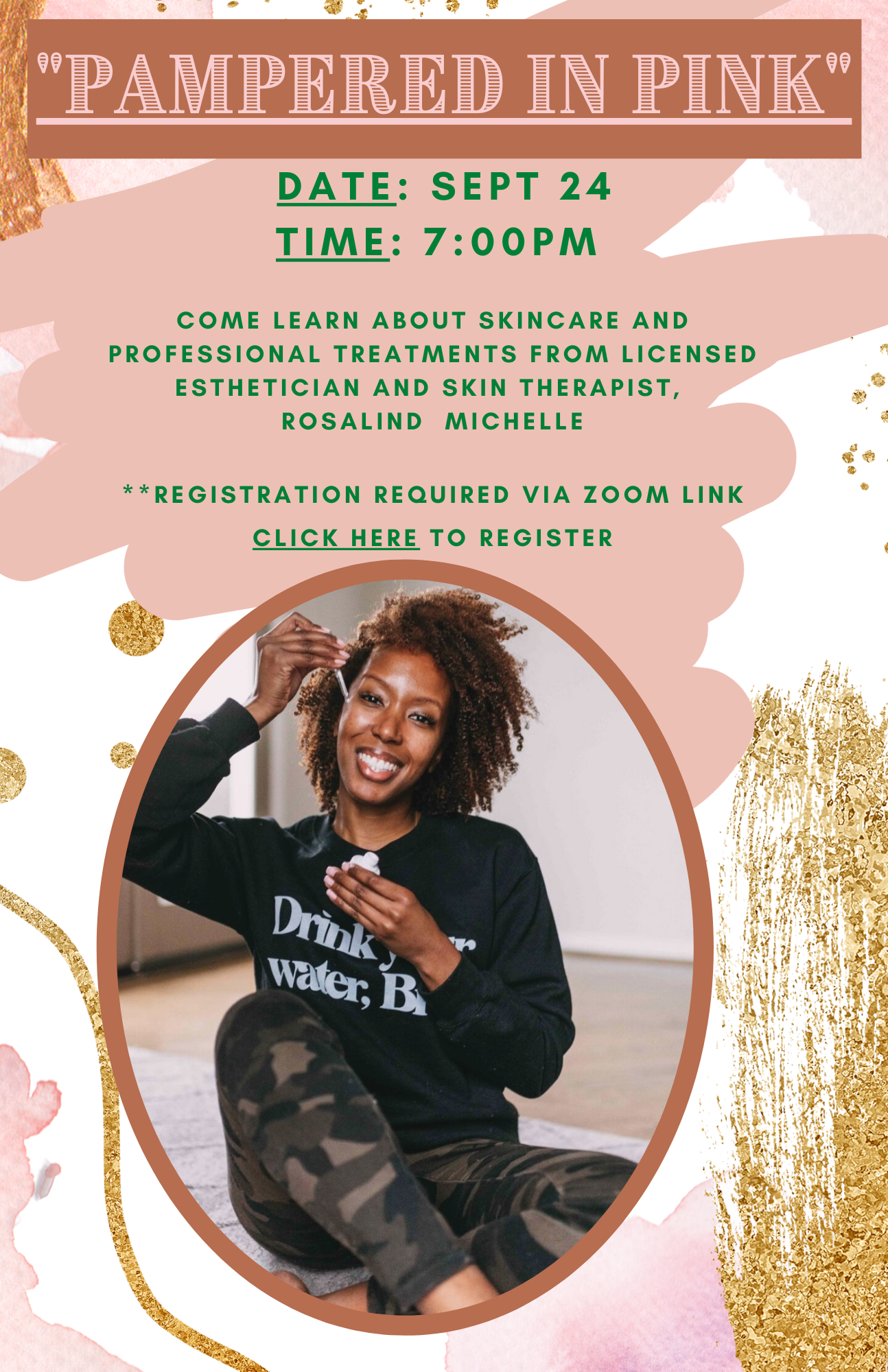 Friday, Sept 24 @7pm
Pampered In Pink (registration required)
You are invited to a Zoom meeting.
When: Sep 24, 2021 07:00 PM Eastern Time (US and Canada)
Register in advance for this meeting:
https://us02web.zoom.us/meeting/register/tZIsfumuqj0pHd3-dNg58fYkB7_79QU8Tr7E
Thank You to the Leadership Development Chapter Retreat Committee Members, who planned & implemented the Lambda Epsilon Omega Chapter Leadership Chapter Retreat in August & September 2021.
Sorors, there were 4 workshops and if you attended all four, then you have received 4 credits toward the 6 credits required for Lambda Epsilon Omega  Leadership Certification.
Thank you committee members…… Great Job!
Soror Neva Jones Foster
Leadership Development Chapter Retreat Chairman 2021

Fundraising Committee Poll

Please click on the link to complete the survey!
It's time for #CAP!  #CAP – College Admissions Process is our Signature Program. Please make plans to join us for our 2021-2022 Kick Off to hear the program details and meet our new students.  We need mentors and lots of support from Lambda Epsilon Omega members to help us with this program. Our past graduates have said that participating in  #CAP has been crucial to helping to keep them on track with their college admission process with FAFSA info, SAT/ACT Prep, Essay Support, Scholarships, etc.
You can help by:
– sharing this flyer with a Junior or Senior in High School
– RSVP and Attend the #CAP Kickoff in your college attire!
– Participate in the program (once a month)
– Mentor a student
– Be a Speaker at one of our Sessions (Email for more details – cap.akaleo@gmail.com)
Kickoff Meeting Registration Link – https://www.signupgenius.com/go/4090D4BAEA822ABFB6-cap18
Learn more, download an application – https://lambdaepsilonomega.org/cap/
Questions – Email cap.akaleo@gmail.com